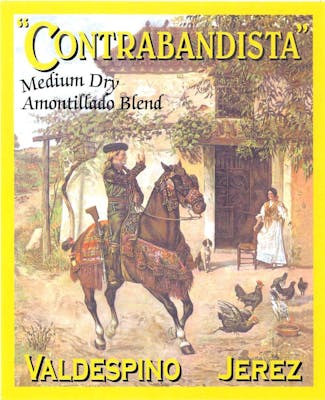 SKU: 21938
Valdespino Amontillado Jerez Contrabandista Solera
---
---
Valdespino is famous for its centennial soleras and for being suppliers to the Royal House. Today, under the direction of Jose Estevez, is one of the very few wineries that continues to be family owned and maintain its independence. Valdespino is one of the most unique Sherry Houses in their pure and traditional style, these are unique wines.
VARIETAL NOTES : 95% Palomino Fino, 5% Pedro Ximenez
VINEYARD : The Palomino Fino come from Macharnudo Alto and vines in excess of 25 years old
ORIENTATION : The vineyard faces the south east with and inclination of 10 degrees and at an altitude of 135 meters high.
SOIL : Albariza or a white chalky soil. When wet it sheds water to deeper soils and as it dries it "clods" creating a protective layer that slows the evaporation of water from below.
VITICULTURE : The vines are bush pruned in the traditional method.
VINIFICATION
The wine is fermented naturally in very old oak barrels. They remain in this "sobretabla" for 1 year fermenting to about 12% alcohol and forming the flor. The wine is then removed from the lees and fortified to 15% and introduced to the first "criadera" or level of the Tio Diego solera.
Dark in color and off-dry, displaying caramel, milk chocolate, fig paste and smoke notes. Well balanced. An easy style to appreciate. Drink now. 100 cases imported. Are you 21 years old, or older?