Vols Wiltinger Braunfels Vols II Riesling Spatlese 2014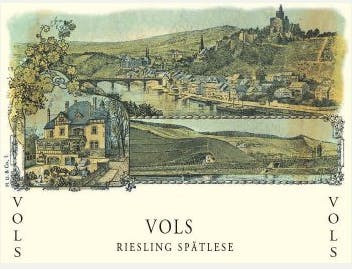 Up to a colossal 50g/l rs-that's sarcastic, people-but it tastes more herb-oily and salty than "sweet:" green apple, verbena, white iris; the palate is compact and slatey and smoky; you don't register the high acidity (nearly 10g/l); he did it whole-cluster and sponti, and the wine will curl your toes; wonderfully expressive, finishing with a keen tweak of lemon balm and naked slate.
Wine Spectator This is very focused and zesty, pulsating with pure-tasting tangerine, grapefruit and peach flavors supported by vibrant acidity. The finish has intense savory and sea salt notes. Should amplify with time in the cellar. Drink now through 2040. 20 cases imported.