Domaine Renardat-Fache CERDON DE BUGEY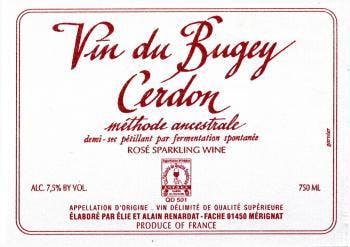 Cerdon is to be consumed throughout the year following the vintage. It is fragile and requires excellent cellaring and transporting conditions. Renardat's is delicate, berry-scented, refreshing, and makes a delicious aperitif or dessert wine (even chocolate goes well with it).
Wine EnthusiastThis stuff is ADDICTIVE, so it's a good thing that the alcohol level is a modest 7.5%. It's pink, it's fizzy & it's delicious, with just a hint of sweetness to its wonderful fresh berry aromas & flavors.
Wine SpectatorOff-dry, showing enticing aromas and flavors, with red cherry, tangerine and spice followed by a creamy finish. Lively and fruity. Drink now.