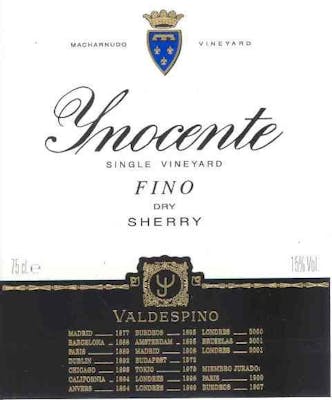 SKU: 14925
Valdespino Inocente Fino Dry Sherry
---
---
VARIETAL NOTES :
Palomino Fino
VINEYARD :
The grapes come from Macharnudo Alto and vines in excess of 25 years old
ORIENTATION :
The vineyard faces south east with an inclination of 10 degrees and at an altitude of 135 meters high.
SOIL :
Albariza or a white chalky soil. When wet it sheds water to deeper soils and as it dries it "clods" creating a protective layer that slows the evaporation of water from below.
VINIFICATION :
The wine is fermented naturally in very old oak barrels. They remain in this "sobretabla" for 1 year fermenting to about 12% alcohol and forming the flor. The wine is then removed from the lees and fortified to 15% and introduced to the first "criadera" or level of the Inocente solera.
AGING :
The wine undergoes biological aging under the veil of flor for over 10 years. There are 10 criaderas + the Solera whereas most Finos on the market only have 3 years aging.
Yellow straw-colored, medium intensity. Pungent, delicate and complex with almond notes and autolysis. Soft entry on the palate with a round smooth feel and structure; lots of volume and character as well as a fresh and saline taste. Are you 21 years old, or older?